Welcome to our Parish website

!

In lieu of our desire to make our parish website more user-friendly and to include other items that are important and relevant for our parish ministry, we have updated our current website.
In this website, you will find our Sunday bulletin, mass and office schedules, Sacramental celebrations, parish ministries, current news and activities, devotions, and listing of our weekly liturgies. If you are new in the area and are searching for information regarding our parish activities, Religious Education programs, or any religious interest, you can find them in our links.

We hope that through this website and our online presence, we are able to meet the needs of parishioners. Our site provides a great source of information about Our Lady of Mount Carmel Parish and her activities.

Again, we welcome you all to our updated Parish Website. We hope you come and visit us regularly. God bless.

Fr. Alexander Barbieto, STL
Pastor

**

*IMPORTANT ANNOUNCEMENT – Regarding S

unday Ma

sses*

**

We received updated directives from the Archdiocese in reference to the wearing of masks and other guidelines. Effective the weekend of June 5, 2021 if you are FULLY VACCINATED you are not required to wear a mask during Mass. We do, however, encourage you to wear a mask especially during the current surge for your safety and the safety of others. Also, you are no longer required to register for Mass each week and social distancing will no longer be required. We also returned to 100% capacity. The Sign of Peace will continue to be made without physical contact and the chalice is still prohibited for the assembly. With that being said, you have the option of continuing wearing your mask if you so choose.

Livestream or Pre-recording of the Sunday Mass will continue for all those who are ill, for those who have reason to believe that they were recently exposed to the Coronavirus, those who are confined to their home, hospital or nursing facility and those with serious underlying health conditions. You can watch our pre-recorded Mass on the website and click on youtube or you can watch it from our Facebook page facebook.com/olmcnutleynj

Weekend Mass Schedule at Our Lady of Mt. Carmel, Nutley:
Saturday Vigil Mass: 5:00 p.m.

Sundays: 7:30 a.m., 9:15 a.m., 10:45 a.m. and 12:15 p.m.

Filipino Mass: 5:00 p.m. Third Sunday of each month
Ways To Give
Monetary Donations
Our Lady of Mount Carmel Parish reopened on June 15, 2020. We are still accepting weekly donations by mail or drop-off in the rectory mailbox.
Amazon Smile
If you shop on Amazon, please choose Our Lady of Mt. Carmel R C Church Nutley as your charity to donate toward. We will receive 0.5% of each purchase made. Thank you for your continued support!
Donate a Car

We have partnered with Cars for Charity* to accept car donations! When you donate your car, about 70% of the gross proceeds from the sale of your vehicle will be returned to Our Lady of Mount Carmel Church. Donate a car to OLMC by filling out the donation form online or calling the vehicle processing center at 888-755-5435.
*Car donations are processed by Advanced Remarketing Services, Inc., the authorized agent for selling vehicles and transferring titles. Your car will be sold and a percentage of the proceeds are returned to OLMC. Please call the vehicle processing center at 888-755-5435 with any questions regarding the car donation process or the status of your donation.*
THANK YOU ALL FOR YOUR SUPPORT AND UNDERSTANDING!
CHRISTMAS SCHEDULE 
December 15 – 22
Misa de Gallo 5:00 a.m.
December 24 ~ Christmas Eve
8:00 a.m. ~ Mass
5:00 p.m. ~ Mass
10:00 p.m. ~ Christmas Vigil
December 25 ~ Christmas Day ~ Sunday Schedule
7:30 a.m.
9:15 a.m.
10:45 a.m.
12:15 p.m.
On Sunday, November 12, 2023 OLMC had the pleasure of having the therapy dogs and the VP of Operation K9 Beethoven Organization as our guests. Operation K9 Beethoven is a therapy dog and emotional support program for our Veterans! Everyone, including the pups, had a great time!!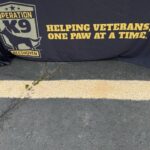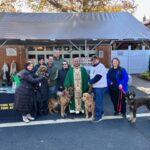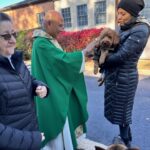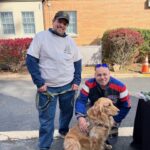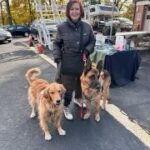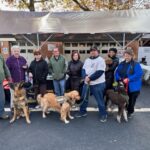 In honor of Valentine's Day, OLMC collected items to distribute to the clients of Nutley Family Services food pantry. We received an overwhelming amount of items. We thank everyone who donated!!!